3106 TROUT CREEK, WATSON – $1,238,450
MLS 1902020
3106 TROUT CREEK RD, WATSON, OK 74963
2,184 SF 4 BEDS / 2 BATHS ON 387 ACRES
$1,238,450
Looking for an investment property or perhaps a secluded getaway far from the hustle and bustle of crowded, noisy cities? Look no further! Located in the Kiamichi Mountains of Southeast Oklahoma near Beaver's Bend State Park and Broken Bow Lake and boasting 387 acres of pine and mixed hardwood forest, a 2,184 square foot creek-side home, and five outbuildings, this property has everything you might want in a rural property.

The Property is located approximately 2.8 miles south of Oklahoma State Highway 4 and extends to the Arkansas state line. The 1.3 mile private drive meanders its way through a scenic pine and mixed hardwood forest to the well-maintained home. The home sits more than thirty feet above Buffalo Creek, giving it a commanding view of the graceful, flowing creek below. With the nearest neighbor over ¾ mile away, you can enjoy unparalleled privacy and solitude.

Home
The two-level custom built, one owner home sports 2,184 square feet of living space with four bedrooms, three of which have attached sitting rooms with large windows overlooking the creek. There are 2 full bathrooms and 2 separate living spaces, as well as a large dining area with a sixteen foot ceiling height. The kitchen, adjacent to the dining area, features a gas range with double ovens, ample cabinet space, tile flooring and backsplash, and custom cabinetry and countertops.

The home is equipped with a heat pump to meet heating and cooling needs and also features triple zone temperature control. Two of three wood-burning stoves effectively used as a primary heat source by current owner remain in the home upon sale of the property.

An indoor accessible dirt walled cellar beneath the foundation is perfect for storm protection and storage for everything from a favorite wine to home canning and root vegetables.

Out-Buildings
Two covered woodsheds are attached to the home. There are five additional out-buildings, one of which houses a hot tub and has large windows and a deck overlooking Buffalo Creek. Two large drive-through barns are capable of housing several vehicles or farm machinery, and each offers enclosed storage rooms. A large detached storage room next to the residence will accommodate most storage needs. Last, but not least, a path leading to a small foot bridge over a wet weather creek leads to a fishing/utility cabin and sun deck. Both are situated creek side for ease of access when swimming, fishing or just catching some rays.

Raw Land and Timber
The Property has been maintained primarily for its timber, with seven woodlots planted near the times of purchase both to minimize erosion to produce marketable timber. One of the lots consists of mature mixed timber. Although approximately half of the property consists of planted pine, the other half consists of mixed native hardwoods and native shortleaf pine, which have been carefully selected and managed by the owner. Large green zones fill the many draws and valleys, including many wet weather creeks that snake through them. The owner has invested many years managing the timber on this property and has indicated a willingness to consult with the new owners regarding the timber assets and practices, knowledge a new owner interested in taking advantage of the property's income producing potential would find helpful.

Recreational Potential
Though the property is not currently used for commercial recreational use, it is overly suited for it. Laced with mile upon mile of logging trails, it is just waiting for avid trail-riders to fire up their favorite recreational vehicle. For hunters, the deer population can only be described as near nuisance levels based on current owners' observations. Add turkey, wild hogs, bear and myriad small game to this burgeoning deer population, and you truly have a hunter's paradise.

Approximately 0.69 miles of Buffalo Creek ambles its way through this serene property. Large rock outcroppings are interspersed along both sides of the creek, and a large bluff soars over 100 feet above the northernmost outside bend. A large pool, often used for swimming, is just northeast of the residence and the small cascade below the home performs a hydro-symphonic composition capable of soothing the soul. For those who love to fish, Buffalo Creek offers a large variety of species. Because it flows into the top of Broken Bow Lake, it remains well stocked year-to-year.

NOTE: Property owner has provided a Timber Schedule showing present and future income potential, in addition to a Cabin Income Projection, should one wish to further develop the Property for nightly cabin rentals. These items are available for Prospective Purchaser review.
Contact Anitra Babcock at (580) 317-0006 for further information to schedule a personal property tour.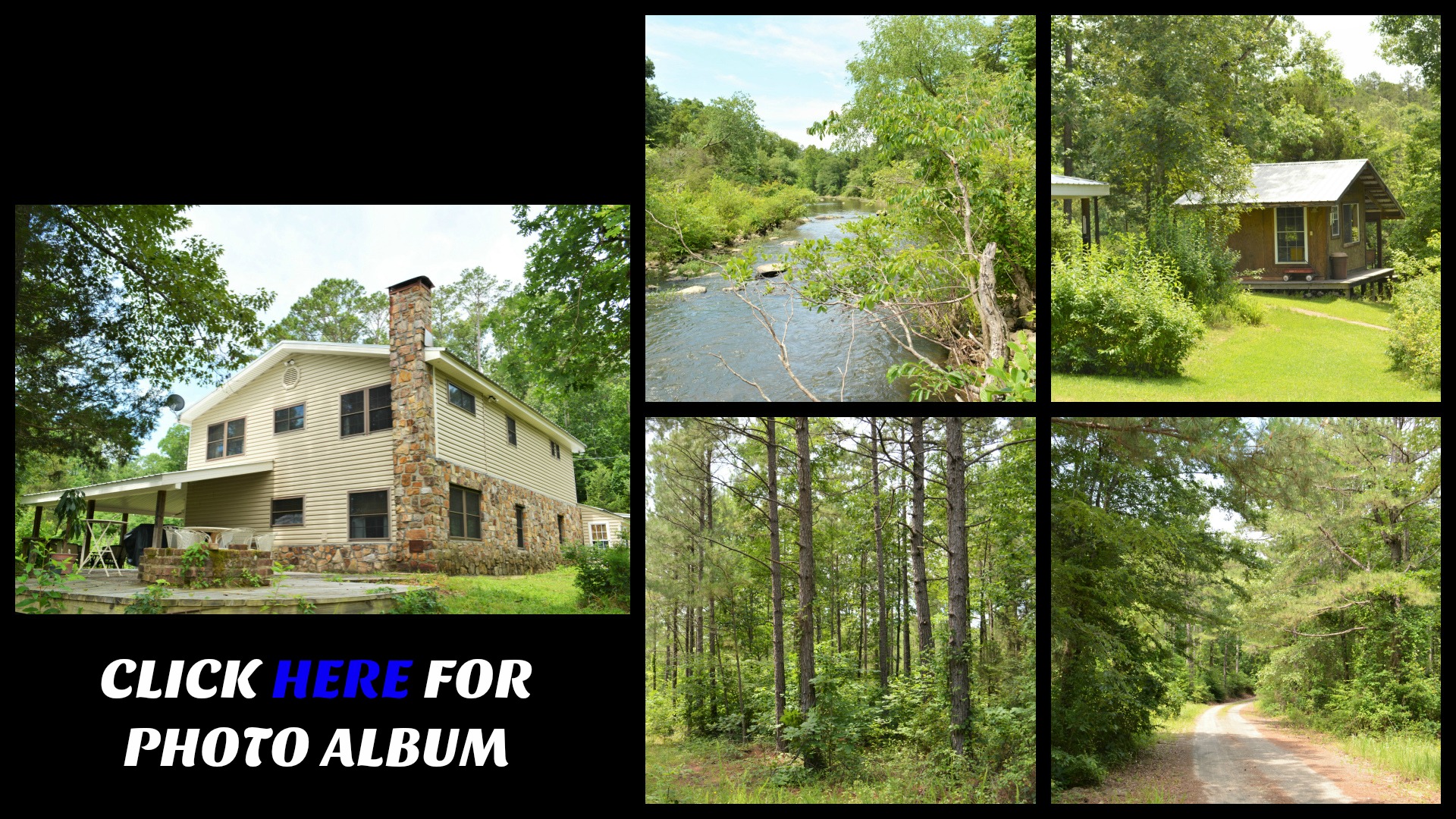 Directions to Property: From US-259 N go east on SH-4. Travel approximately 10.5 miles to Plunketville Rd and turn south. Go 1.3 miles to first crossroad (Whitefish Rd) and turn left. Go 0.75 miles to next crossroad (Trout Creek Rd) and turn right. Go 0.75 miles until road bends sharply to the left. Immediately turn hard right and continue 1.3 miles. Coordinates: 34.397697,-94.475967